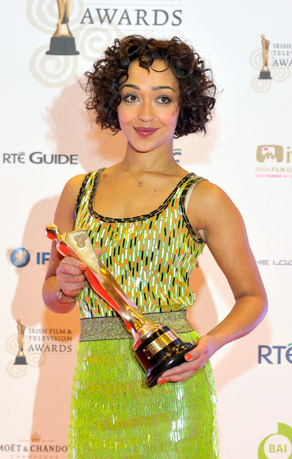 Ruth Negga with the award for Best Actress in Television for Shirley in the Winners Room at the Irish Film and Television Awards 2012 at the Dublin Convention Centre on February 11, 2012 in Dublin, Ireland
If you keep on doing what you have always done…You keep on being what you always been. Nothing changes unless you make it change."
Abby Minda[MT]:Ruth Negga is a famous Holywood movie star. She was born in 1982 in Dublin, Ireland. Ruth has an Irish mother and Ethiopian father.
She was nominated for a 2004 Laurence Olivier Theatre Award for Most Promising Newcomer of 2003 in a Society of London Theatre Affiliate Theatre for her performance in Duck at the Jerwood Theatre Upstairs at the Jerwood Court.
She has been chosen as the Irish Shooting Star for the Berlin Film Festival.
Ruth Negga has starred in Irish films such as Capital Letters (2004), Isolation (2005) and Breakfast On Pluto (2005).
The Samaritan 2012
"If you keep on doing what you have always done…You keep on being what you always been. Nothing changes unless you make it change."
is the inspirational quote used to show the major theme of the movie.
IFC Films has debuted the official trailer for The Samaritan, a new dramatic thriller starring Samuel L. Jackson as a former grifter fresh out of prison, looking to take his life on a new path. But he meets another young woman /RUTH NEGGA The young half Ethiopian Half Irish Blood actress. / And things get a bit out of hand when he gets in with the wrong guy.
The cast includes Luke Kirby, Ruth Negga, Tom Wilkinson, Aaron Poole and Martha Burns. This trailer reveals a big plot twist, unnecessarily I'd say, and makes it almost look like The Game meets Death Sentence.
The movie depicts how Ruth is becoming a famous and successful movie star from the beginning and I hope she has a lot to offer for the Hollywood cinema industry.
Ruth Negga is awarded for Best Actress in Television for Shirley in the Winners Room at the Irish Film and Television Awards 2012 at the Dublin Convention Centre on February 11, 2012 in Dublin, Ireland.
/www.maledatimes.com


The Samaritan (2012)