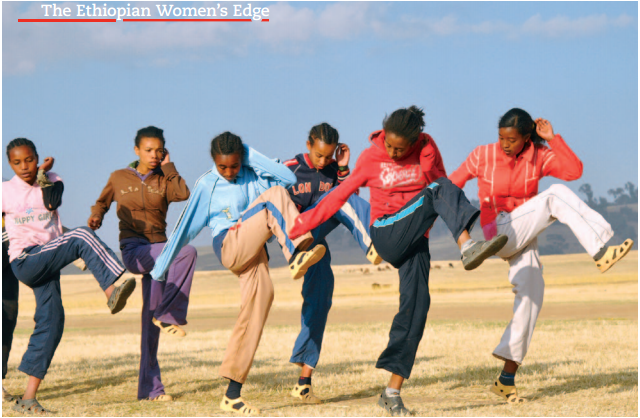 New York (TADIAS) – In 2005, an article in the Washington Post by Emily Wax entitled: Facing Servitude, Ethiopian Girls Run for a Better Life, inspired Dr. Patricia E. Ortman, a Washington, D.C.-based retired Women's Studies Professor to launch Girls Gotta Run Foundation (GGRF), a volunteer organization that provides new shoes for girls in Ethiopia who are training to be runners, among other additional assistance. Emily Wax's piece highlighted the grim realities faced by young girls in the Ethiopia, especially in the countryside, including having one of the lowest rates of female enrollment in primary schools. "After reading that article," Ortman had told Tadias Magazine, "I was faced with two choices: to go 'oh well' and go about my life, or to get involved."
Now another writer Margaret Webb, a Toronto-based author and journalist, has published a feature story that appears in this month's edition of Running Magazine (Canada) called The Ethiopian Women's Edge and she devotes a section to the girls of GGRF. "I learned about the organization when I traveled to Ethiopia last summer, on a mission to find out why Ethiopian women are emerging as the world's best marathoners," Webb said in a blog post asking her fans to donate to the organization in support of her upcoming participation in the Boston Marathon, a week after she turns 50.
"In the capital of Addis Ababa, teenage girls dreaming of professional running careers train in Meskel Square, an outdoor amphitheatre in the city centre," Webb wrote. "One morning when I ran to the square, six teenaged girls were training together, repeating one-kilometre laps up 50 uneven dirt steps, across the back row past homeless people sleeping in cardboard boxes, down the other side, along the front row of seating through thick clouds of exhaust pouring up from the city's main intersection, all keeping in perfect rhythm with each other."
She added: "When they stopped for a break, and I asked for a picture, they giggled with excitement, thinking I was a Canadian race promoter, here to help them. "Only a writer," I said, holding up my notebook. They ran ran off to do more laps."
In a recent interview with Tadias Magazine Dr. Ortman said her Foundation's efforts are bearing fruit. "Basically, we can say that in 2011, many of our long term efforts and investments in the girls began to pay off for them in a big way," she said. "The girls had some significant athletic successes in 2011, including the first place win among the women by Chaltu Tafa in the Flag Day 8k race, and women's 6k team won the second division trophy at the Addis Ababa Cross Country Club Championship Races." She added: "Most of the girls are still in school, catching up with their education and making good progress."
One of the GGRF girls, Hana Megersa Abo, also won her first international race, the Loch Ness Half Marathon in Scotland. "The support of GGRF and Running Across Borders has been instrumental in getting them to these positions, and we are all so proud of them," Ortman said.
Dr. Ortman summed up her thoughts on what she enjoys most about being involved with GGRF by telling Tadias that the project "empowers ambitious, determined, courageous young women to achieve their own dreams and hopefully, eventually, become leaders of the future as a way to help create a better future for themselves, their families, their communities, their country and thus, our whole world."
http://www.tadias.com