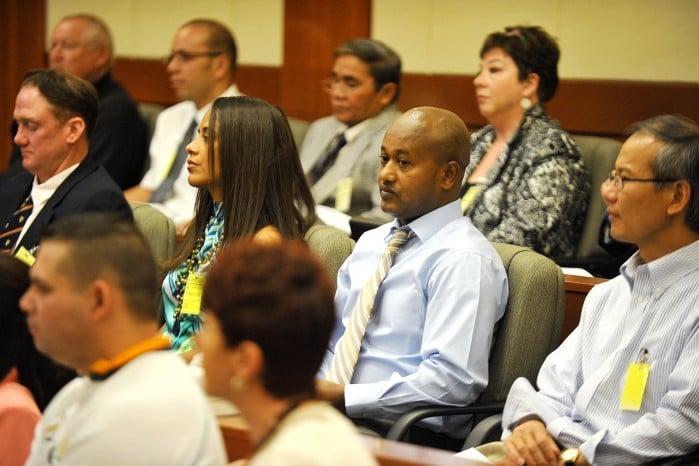 On Thursday morning, 25 people proudly took their oath of allegiance to the United States and became citizens in front of an excited crowd in a federal courtroom in Helena, some of whom snapped photos of their loved ones.
The newly minted citizens, in turn, reacted in a variety of ways. One gave the gathering a thumbs up, while others dabbed at tears of joy.
For Catherine Van Bilsen, the
moment was years in the making. While living in Belgium, and visiting Spain, she met her future husband, who lived in Missoula.
"It's a complicated story. Do you have a couple of days?" she said, with a laugh.
Her adjustment to life in the U.S. was an interesting one. Van Bilsen said the buildings, cars, electricity and toilets are all different from her homeland. But, once acclimated, she adored her new home in Montana.
"I love it here. Everything from the people to the grandness," she said. "Like they say, everything is bigger in America — especially in Montana."
The move to the U.S. was romantically motivated for Van Bilsen. Mulugeta Kebede made the journey to pursue his profession.
Kebede came to Montana from Ethiopia after finding work as an engineer. He currently works for the Montana Department of Transportation.
The transition was made easier by the outgoing and pleasant nature of the people in Helena.
"People are very friendly," he said.
Kebede has grown to love hiking in the mountains but still has not ventured into any winter sports.
"Maybe next year I will ski," he said.
Helena Mayor Jim Smith was on hand to help welcome the new citizens, who came to Montana from 15 different nations.
"This is really a thrill for me," Smith said. "It's an important moment for you."
U.S. District Judge Sam Haddon told the group what a great honor it is to be a citizen, especially since they all made the decision to change.
"We are a country of immigrants," he said. "You are now part of the fabric of this great country."
Haddon shared stories from his family's past, including one about a relative who came to the U.S. as an indentured servant and another centered on a Native American woman in his family tree who was an orphan.
"Those are just tiny examples of the uniqueness of this country," he said. "Your new citizenship is going to add to that uniqueness. The United States simply isn't like the rest of the world.
"We welcome you. We're glad you're here," Haddon added.
http://helenair.com