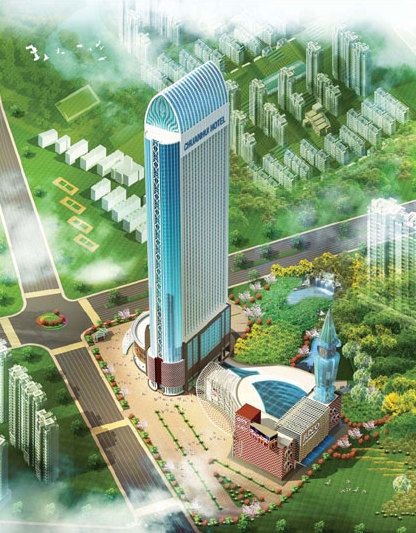 An artist's impression of the proposed Chuanhui Group hotel in Addis Ababa. Provided to China Daily
Five years ago a chinese property magnate sensed an opportunity to build up business in africa
Property developer China Chuanhui Group plans to build a 320-meter-high hotel, office and shopping complex in Addis Ababa that would become the tallest building in the Ethiopian capital.
"Ethiopian media have reported that it would be the highest building in Africa but I have not done any research on the high rises in Africa," says Liu Yanlin, chairman of the group, based in Huizhou, Guangdong province. "Since Addis Ababa is the highest city above sea level in Africa, it could be No 1 building in this sense."
In the five years since he started to invest in a cement plant in Ethiopia, Liu has noticed a lack of accommodation for business travelers and those attending international meetings in its capital, a popular center for conventions in Africa.
A standard room at a five-star hotel in Addis Ababa costs about $600 a night and double that during major international conventions, while a similar room in Beijing is available at $200, Liu says.
The short supply in Addis Ababa means a sound return on investment, he says.
The 1,000 rooms earmarked for the proposed complex would take up only a third of the 320,000 square meters of floor space in the 58-story main building, with the rest being office space for local and international businesses.
Chuanhui is paying about 250 yuan ($41) a square meter a month for its office in Addis Ababa at present, which indicates a favorable rental market, he says.
Another 70,000 square meters space in the planned complex will be devoted to shopping and leisure functions.
Liu has spent a considerable time studying the market and he sees some difficulties ahead.
The Ethiopian government has a very welcoming attitude to investors and assigned land for the building. However, relocating the current inhabitants of the plot could prove very challenging, he says.
Liu also has to face the fact that there is no steel plant in Ethiopia, and would have to import steel products from China, along with many other materials, such as fittings, electrical products, machinery, computers, TVs and technical workers, who are not available locally.
The complex could take four years and $300 million to build while the same building would cost $160 million if constructed in China, he says.
Chuanhui plans to manage the hotel, drawing on its experience of running three hotels in China.
"We are not a very big company in China but with this building, we are doing something influential," Liu says.
The Chuanhui group's first project in Ethiopia was a cement plant, an area in which Liu had little experience.
It arose after an opening ceremony in 2007 for a Chuanhui hotel in Hubei province, where Liu was persuaded by a friend returning from work in Africa to see for himself the opportunities Africa presented.
When he paid a visit, he saw there was a shortage of steel and cement when the Ethiopian government had planned building massive residential and high-rise buildings.
Statistics from the website of the Ethiopia embassy in China indicated that while agriculture accounted for 41 percent of Ethiopia's GDP, and service 46 percent, the industrial sector accounted for just 13 percent.
"I was excited back at my hotel. China in the 1980s came to mind," Liu says. "There were unprecedented opportunities for development in Ethiopia. The high price of cement was due to low production and large demand. Both labor and power were cheap."
Liu rushed back to Guangdong to meet cement experts, registered Huangshan Cement in Ethiopia in August in 2008, and began construction there in November the same year.
The first batch of clinker he imported from China for cement production, 50,000 tons in 2,000 containers, was stranded at the port of Djibouti for more than two months due to a lack of trucks to move it to the plant 1,000 kilometers away.
Chuanhui was charged more than $1 million for storing the clinker at the port.
Nevertheless, despite this and other problems, the $49-million plant went into operation six months after the ground breaking. It now has an annual capacity of 1 million tons of cement.
Production has been excellent, Liu says. The cement price has fallen this year as more cement plants have set up in Ethiopia.
However, highly volatile prices in other areas make investing in Ethiopia a challenge, he says.
"You cannot make accurate assessments through feasibility studies."
So the cement plant was followed by a plastics plant, which mainly makes bags for the cement plant, and a 2-million-ton clinker plant is being built and is due to be completed next year.
A frontline local worker is paid 400 to 500 yuan a month, with the cement plant employing 2,000 and the plastics plant 200.
Foreign exchange is another problem due to the imbalanced foreign trade of Ethiopia, Liu says.
However, he recognizes the efforts of the Ethiopian government in attracting foreign investment, the relatively low threshold for investment, and the friendly approach of local people.
In return, Chuanhui has spent more than 10 million yuan on charitable and social projects, including building rural roads and renovating school buildings.
For the time being, Liu will concentrate on the hotel project in Addis Ababa, although he has sensed opportunities in other areas, including steel manufacturing, hospitals, power supply and mining.
None of them would be easy to realize, but 49-year-old Liu, a rags-to-riches billionaire, has learnt to persevere.
The Chinese businesses of Chuanhui, founded in 1990, span hotels, property development, a micro credit company, farming, supermarkets and foreign trade.
With the Chinese government's policies to curb rising housing prices, Liu is shifting focus to commercial property from residential developments.
He also plans to study the markets in other African countries, such as Kenya and South Africa.
http://africa.chinadaily.com.cn