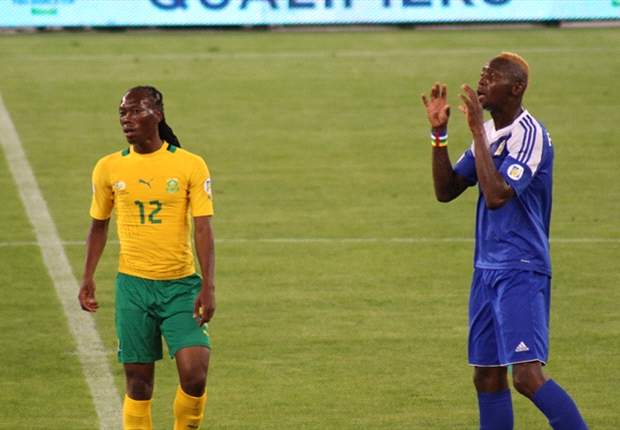 Bafana midfielder Reneilwe Letsholonyane admits that they need to work extra hard to get all the three points against Ethiopia
Following Bafana's impressive 3-0 win over Central African Republic in Cameroon this past weekend, midfielder Reneilwe Letsholonyane has warned his teammates not to get carried away against Ethiopia.
Yeye admits that Bafana need to overcome the Walia Antelopes on Sunday, and he also highlighted on the importance of topping Group A before their final group match against Botswana.
"We have to beat Ethiopia; there are no two ways about it. I had a feeling that they were going to win in Botswana because they are a stronger side, but then that is good because it means we have to do the business ourselves and not depend on the next team to help us qualify," Letsholonyane was quoted on the Safa website.
"It is as simple as that. We have to beat Ethiopia and top the group before we play our last qualifier against Botswana at home," added Letsholonyane.
However, Letsholonyane is aware that the Ethiopians will be more difficult to beat at home and he is expecting their supporters to come in numbers.
"But this one is going to be more difficult, because it is an away game in the true sense of the word and with all their supporters behind them. It is going to be one hell of a game," said Letsholonyane.
The 31-year-old Letsholonyane says their game against Ethiopia is likely to be a group decider, and he wants nothing but the three points.
"We have to work extra hard to get the points as this is mostly likely to be the group decider. Whoever loses will have to play catch up and with only one match remaining it is going to be very hard if not impossible," he said.
"If we lose this match, we have to depend on CAR to stop Ethiopia when we play Botswana, and that is not an ideal situation we want to find ourselves in," concluded Letsholonyane.
http://www.goal.com