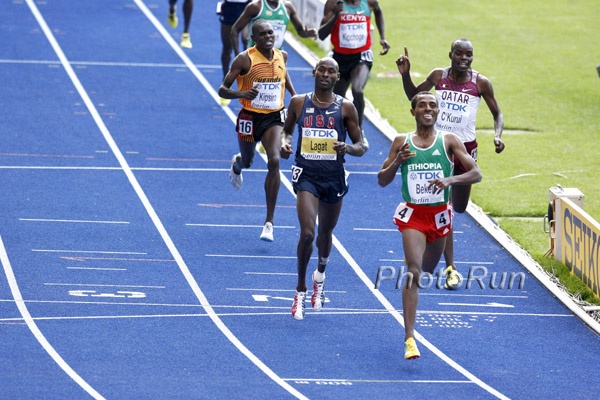 Happier times for Bekele.
Ostrava is rich with history. Since its inception in 1961, the Golden Spike Meeting has seen 13 world records set at the Mestsky Stadium. Even more
special, two of those record marks were set by Czechoslovakian national hero, Emil Zatopek.

So it's only fitting that the upcoming Zatopek Memorial 5k has two athletes looking to make history. For one, the return to Ostrava is one of nostalgia. For the other, it's just the beginning.

Kenenisa Bekele heads back to the site of his '04 world record in the 10k.

If the venerable Bekele is looking to return to his unstoppable form, then Ostrava is a good place to fresh start. While he's already on the Ethiopian 10k team for the upcoming IAAF World Championships, Bekele has expressed his desire to run the 5k in Moscow as well.

"I want both world titles back, that I won in Berlin in 2009," Bekele said in a press conference prior to the IAAF World Challenge in Hengelo.
However, Bekele hasn't made a strong case to the Ethiopian Federation to attempt the double. In Hengelo, Bekele dropped out before 3k. Perhaps he was exhausted from his 27:12.08 win in the Prefontaine Classic 10k, which was eight days beforehand?

Even though the race has come and gone, Bekele won't be able to shake the memories of his Hengelo DNF in Ostrava. The top two finishers in that 5k were Bekele's compatriot Muktar Edris (13:04.65) and Kenya's Augustine Choge (13:05.31). Both athletes will appear in Ostrava as well.

Fun Fact: Back in '05, Choge broke Bekele's world junior 3000m record (7:30.67) with a run of 7:28.78.

If Bekele wants to make the 5k team, he'll have to make a big statement on June 25th. Right now, the top two marks in the world are occupied by Ethiopians Yenew Alamirew and Hagos Gebrhiwet, respectively. Edris sits eighth followed by Ibrahim Jeylan (#15) and Imane Merga (#16).

That list also does not include Bekele's younger brother Tariku (#7 in the world last year) and Dejen Gebremeskel (#1 in 2012 and the Olympic silver medalist, but has had an up-and-down '13). What would happen if countries could send more than three representatives to the World Championships?

If he wants to regain the Distance Running Throne from double Olympic champion Mo Farah, Ostrava is the place to start anew.
http://www.flotrack.org