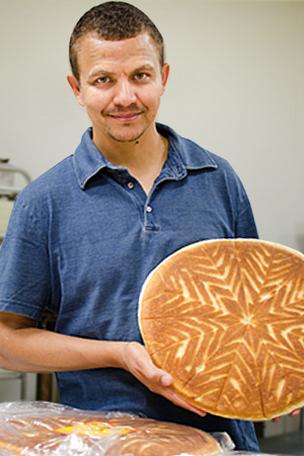 A St. Paul entrepreneur has perfected a machine that makes injera, a flatbread that is a staple item in East Africa, and now he plans to sell the systems to other wholesale bakers.
Francesco O'Ryan also is the owner of East African Bakery, which sells injera and hambasha breads to small ethnic groceries and restaurants in Minnesota, Maryland, Virginia and the Washington, D.C., metro area. When he opened his St. Paul bakery, there were few ways to make the flatbreads on a large scale.
"Even today, companies that make injera use these Chinese-made pancake machines or hotplates. They don't last and they're not meant to be used for many hours," O'Ryan said.
O'Ryan and business partner Jerome Guettler began developing the machine in 2009. The latest model can make one 15-inch injera round every ten seconds, which comes out to approximately 4,000 over the course of an eight-hour day. Without the automated system, an injera maker can produce about 900, O'Ryan said.
The two plan to manufacture and sell the machines under a new, separate company called Bake Automation LLC. In July, Bake Automation was approved for a $94,000 loan from the St. Paul-based Neighborhood Development Center to get the line up and running.
O'Ryan estimates that initially they will be able to tool four machines per year, each taking about four to six weeks to fabricate. A single machine will cost $120,000 to $140,000, depending on price fluctuations affecting the raw materials: Iron, stainless steel and aluminum.
The two are currently working with a lawyer to get the machine patented, but O'Ryan said they already have one order in the works. Bake Automation will begin producing the machines in the next few months, he said.
http://www.bizjournals.com/