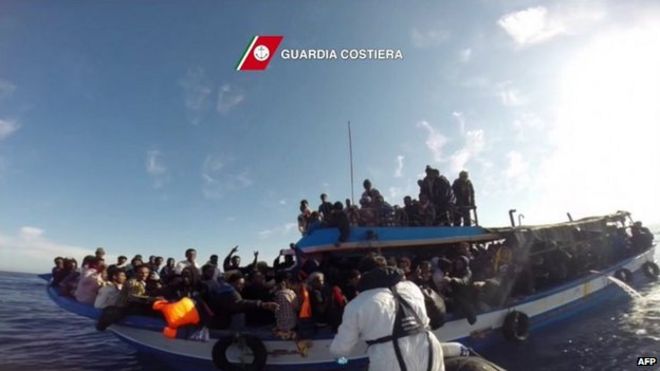 Hundreds of people are feared to have drowned after a boat carrying up to 700 migrants capsized in the Mediterranean Sea, the Italian coastguard says.
A major rescue operation is under way after the vessel carrying "between 500 and 700 migrants" capsized at midnight local time, in Libyan waters south of the Italian island of Lampedusa.
So far 28 people have been rescued.
Earlier this week, 400 people were feared to have drowned when their vessel capsized north of Libya.
'Biggest tragedy'
Italian ships, the Maltese Navy and commercial vessels are all involved in the rescue operation, 130 miles (210km) off the coast of Lampedusa and 17 miles (27km) from the Libyan coast.
The Italian coastguard's spokesman told the BBC the operation was still focused on search and rescue, "but in time it will be a search [for bodies] only".
Twenty ships and three helicopters were currently involved in the rescue, he added.
Maltese Prime Minister Joseph Muscat said rescuers were "literally trying to find people alive among the dead floating in the water".
If confirmed, it would be the biggest migrant tragedy to have taken place in the Mediterranean in recent times, he added in quotes carried by the Times of Malta newspaper.
Twenty-one bodies had been retrieved so far, Italian news agency Ansa reported.
The migrants reportedly fell overboard when they rushed to draw the attention of a passing merchant ship.
Mark Micallef, a journalist with the Times of Malta, told the BBC such incidents were "not at all uncommon".
"We have seen this sort of scenario happen, where a boat gets capsized right at the moment of rescue.
"Merchant vessels... ill equipped to do rescues, [are] being tasked to do a job they're not designed for," he said.
Those rescued and the bodies recovered will be brought to the coastal city of Catania, Italian media report.
Some 10,000 migrants have been rescued in the past week by Italy's coastguard, and the number of people making the crossing is expected to surge as weather conditions improve.
A maritime rescue operation run by Italy, Mare Nostrum, ended last year after some EU members said they could not afford it and amid concerns it was encouraging more migrants. The EU now runs a more limited border control operation called Triton.
Justin Forsyth, chief executive of aid group Save the Children, urged the EU to restart rescue operations.
"The scale of what is happening in the Mediterranean is not an accident, it is a direct result of our policy," he said.
Last year a record 170,000 people fleeing poverty and conflict in Africa and the Middle East made the perilous crossing to Italy. Thousands died making the journey.
http://www.bbc.com/