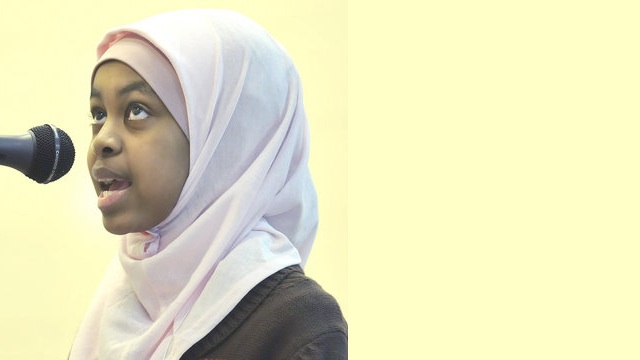 A first-generation American, whose mother came to North Carolina barely speaking English, bested 31 other students Sunday to win the 72nd annual Winston-Salem Journal Regional Spelling Bee.
Nejat Alkadir, a seventh-grader at Ledford Middle School in Davidson County, spelled "suggestible" correctly to clinch the win and earn a trip to the national finals in Washington, D.C. She went back and forth with second-place finisher Dharani Govindasamy of Guilford County. Then he tripped over "twoling," which is a type of crystal.
"He was really smart," an ecstatic Nejat said after the contest. "When he missed the word, I knew that was my chance."
Nejat and her family will head now to the Scripps National Spelling Bee finals. Perhaps just as important: Her dad's going to buy her a cellphone, he said, as a reward.
"She's got a good mind," said father Aminu Alemu, who also noted that, in Ethiopian culture, children take the father's middle name instead of the last.
"God give it to her," Alemu said. "I'm very proud."
So were Nejat's self-described "American grandmothers," Judy Austin and Jane Schrum. They met Nejat's family through a church program more than a decade ago and beamed as Nejat hugged her new foot-and-a-half trophy.
"We were just amazed at her ability to pick up reading," Austin said. "At 3½, she was reading."
Students from 32 school systems, including home schools, area private schools and charter schools, competed in Sunday's competition, which was sponsored by the Winston-Salem Journal and Truliant Federal Credit Union. Bee words ran the gamut, from the fairly simple — "condor" was the opening word — to the downright arcane.
"Sansei," a Japanese-based word for the "son or daughter of nisei or kibei parents who is born and educated in America" was a word in the fourth round, according to the spelling bee's list of words and definitions. "Quisling," a Norwegian word for traitor, popped up four words later.
Spellers got both of those right. But "batik," an Indonesian method of hand-printing textiles, spelled the end for one contestant.
There were an unusual number of words this year of Japanese and Arabic origin, according to pronouncer Robin Richards, who has been reading words to local spelling bee contestants for nearly 20 years.
Odd words with Greek and Latin roots are expected in spelling bees.
But this year "hafiz," a Muslim who knows the Quran by heart; "Quatari," a native of Qatar; and "mihrab," the part of a mosque that indicates the direction of Mecca; all came out within 13 words of one another.
"I was surprised," Richards said.
None of this particularly helped Nejat, whose family speaks Amharic, not Arabic. Nejat speaks only English, though she said she understands Amharic. She said she studied two or three hours a day to prepare.
Other spellers said they kept to a similar regimen, which made it that much harder to go home early. Returning champion Amanda Arenella was particularly disappointed.
Her first, and only, word: "grabble." It means to "move the hand in a groping fashion," and several people in the audience thought the word was "grapple."
Arenella, who represented the Iredell-Statesville school system, spelled "gravel," even though Richards read her the word's definition.
Arenella said she didn't understand what word she was supposed to spell, and she hoped the judges would give her a second chance. After a short conference, they did not.