We adore Liya Kebede.
Not only is the Ethiopian model totally gorgeous, but she's also an accomplished actress and a passionate activist for worldwide maternal and child health.
The model took a break from her advocacy work to pose for the October issue of Numero China. Shot by Tiziano Magni, the image shows Kebede curiously holding a tiny dress (with a seriously small cinched-in waist) instead of wearing it.
We'd say maybe it didn't fit, but Kebede is a supermodel. Everything fits.
Check out the cover below -- what do you think?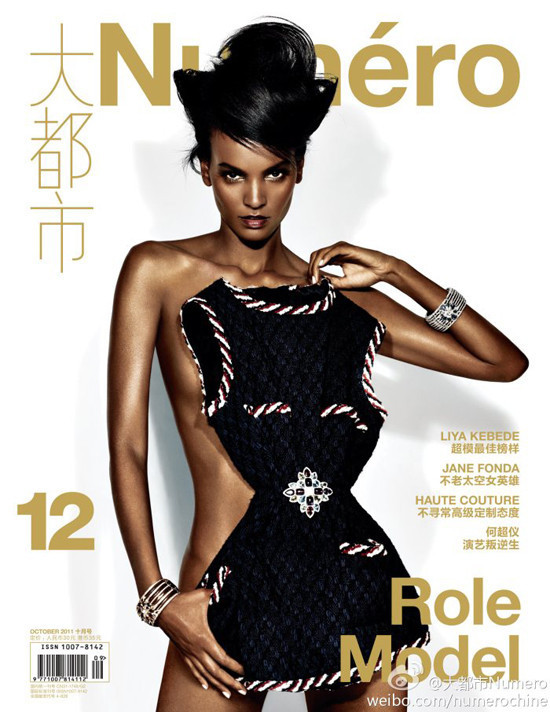 Liya Kebede is an internationally recognized supermodel, actress, designer, maternal health advocate and mother. She is the founder of the Liya Kebede Foundation, a Goodwill Ambassador for the World Health Organization's maternal and child health program, a Champion for an HIV-Free Generation and an Advisory Board member for the Mothers Day Every Day campaign.

Liya is dedicated to reducing maternal, newborn and child mortality and to improving the well being of mothers and children worldwide. In 2005, WHO named her its goodwill ambassador for maternal, newborn and child health. As a WHO ambassador, she has been a vocal advocate for health, empowerment and development causes impacting women.

In 2006, she founded the Liya Kebede Foundation, which raises awareness, promotes proven, low-cost interventions, which reduce maternal and child mortality, and educates health workers. Her Foundation works closely with well-respected organizations such as WHO, UNICEF, the White Ribbon Alliance and the Fistula Foundation, combining international advocacy with on-the-ground work in affected areas. Liya has appeared on the Oprah show to raise awareness about the issues faced by women and children in the developing world.
Career
As a leading model, Liya has been featured multiple times on the cover of American Vogue, as one of the leading faces of "the Return of the Super Model" issue and with the heading "Cover Model With a Cause". She has appeared in runway shows and major print campaigns for designers such as Ralph Lauren, Marc Jacobs, Gucci, Yves Saint Laurent, Lanvin, Emmanuel Ungaro, GAP, Balenciaga, Givenchy, Oscar de la Renta, Dolce & Gabbana, Escada, Louis Vuitton, and others. Liya gained widespread attention in 2005 when she became the first model of color to represent Esteé Lauder. Forbes has named her one of the top 15 highest earning models.
In 2007, Liya launched a line of women and children's clothing called Lemlem ("to bloom" in Amharic), which supports Ethiopia's local weaving traditions. The line debuted its first collection in Spring 2008 featuring clothing handmade in Ethiopia and was picked up by J. Crew in April 2009. Lemlem combines Liya's interest in fashion with her humanitarian work, creating economic opportunities for Ethiopian artisans.
Liya has also appeared in several films. Following roles in The Good Shepherd and Lord of War, Liya will star in the upcoming Desert Flower, an adaptation of Somali model Waris Dirie's autobiography chronicling her experience of female circumcision. The film, directed by Sherry Hormann, is currently in production.
Facts
Pregnancy and childbirth are the leading cause of death for women in developing countries. Every minute, a woman dies in childbirth, mostly from preventable causes. Ninety-nine percent of those deaths occur in the developing world. No other health disparity is so stark; virtually every woman who dies giving birth lives in a poor country. When a mother dies, her children are up to ten times more likely to die within two years. They are less likely to be immunized, more likely to be malnourished, more likely to contract HIV and more likely to be exploited. USAID estimates that the world economy loses $15.5 billion dollars each year because of preventable maternal deaths.