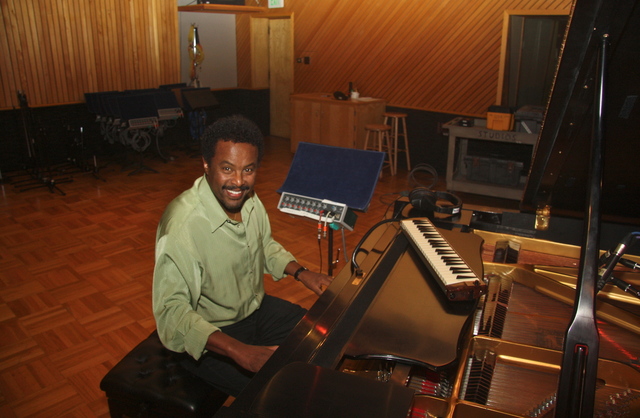 Elias Negash at a recording session in Berkeley, CA.
New York (TADIAS) – The latest CD by California-based musician Elias Negash, whose songwriting combines Ethiopian music with international influences, is entitled Jazzed Up. "It is a reflection of the various dynamic genres
incorporated into the music," Elias said in a recent interview with Tadias Magazine. "Ethio-smooth is included along with R&B, Reggae and Salsa." He added: " In so doing, the music has been refreshed and jazzed up. On this CD I am using musicians that are very good friends of mine. The five-piece group have played varying styles of music in the past, but currently we are focusing on a fusion of Jazz, Ethio- Jazz, Rhythm & Blues and other world music. These are the musicians I will be traveling with for years to come. We are called the 'The Retroz Band.'"
Elias, who was born in Ethiopia and moved to the United States in 1971, has a long resume in the music industry. He was one of the pioneering figures in the Reggae and African music scenes in Northern California during the 1970s. He performed with groups such as Obeah, Axum, Caribbean All Stars and the Rastafarians. After a brief stint in Los Angeles working on the Royal Princess Cruise ship in the 1980s, Elias appeared on a sound track for the television movie Glitz and also performed in the TV series Murder She Wrote.
Elias now owns and operates SophEl Recordings, a music studio located in Oakland Hills, California that opened in September 2000. He says he enjoys spending time in this quite, residential neighborhood. "I often work with fellow music producer Gordon Brislawn, who was iTunes' first call for 42 of iTunes front-page exclusives," he said. "We have all the latest equipments to make any music project number one."
Regarding his childhood in Ethiopia Elias said: "I was born in Addis Ababa and grew up in a very big house in "Riche" on the road to Debre Zeit. The house belonged to my grandfather. A couple of years before St. Joseph school was established I went to German School – Deutsche Schule – kindergarten in Addis Ababa for a year, then to Nativity Catholic Cathedral School for my first grade. And when St. Joseph school opened in 1960, I was transferred to second grade to persue my elementary and high school education."
After completing high school Elias moved to New York with his uncle who was a student at Rensselaer Polytechnic Institute. "Living in upstate New York for almost two years at a young age was a very cold experience," he said. "My brother was living in Northern California at the time, and so he would tell me how the weather was so similar to our motherland. That really convinced me to move to California."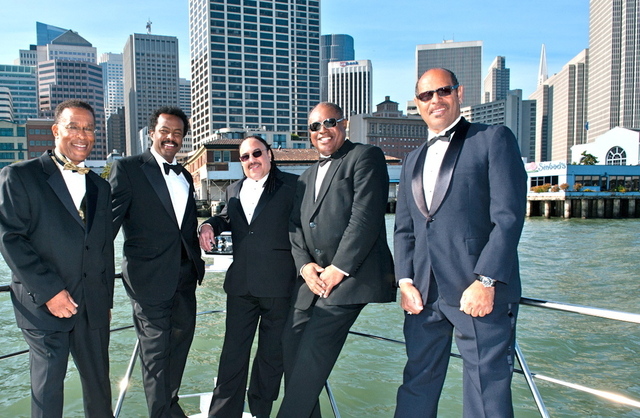 Elias Negash, second from left, is the leader of Retroz Band - a jazz ensemble based in the Bay Area. Members of the group, left to right, are: Anthony Lincoln, Lead vocals & Tenor Sax, Elias Negash, Piano, Keyboards & Vocals, Louie Moon Robinson, L & R. Guitar & Vocals, Mark Williams, Up.& E. Bass, Bob Marshall, Drums.
Discussing his favorite musicians, Elias said his musical taste and influences are wide-ranging. "As far as Ethiopian musicians are concerned I like Mulatu Astatke for being the father of Ethio Jazz," he said. "And Emahoy Tsege Mariam Gebru's Classic piano solo album. Among male vocalists I listen to Tilahun Gessesse, Mahamoud Ahmed and Girma Beyene." He continued: "Non-Ethiopians would be Ray Charles, Bob Marley, pianist Ramsey Lewis Ahmad Jamal, Booker T & The MG's, Bill Evens, Jimmy Smith, Earl Garner and Oscar Peterson."
Returning to the topic of his latest album "it reflects an experience of dialing up any baseline to a positive atmosphere," Elias said. "It is my hope that listeners feel jazzed up."
http://www.tadias.com